ILLUMINATING HOME INTERIORS WITH MODERN PORCELAIN DESIGN
A MESSAGE FROM
OUR FOUNDER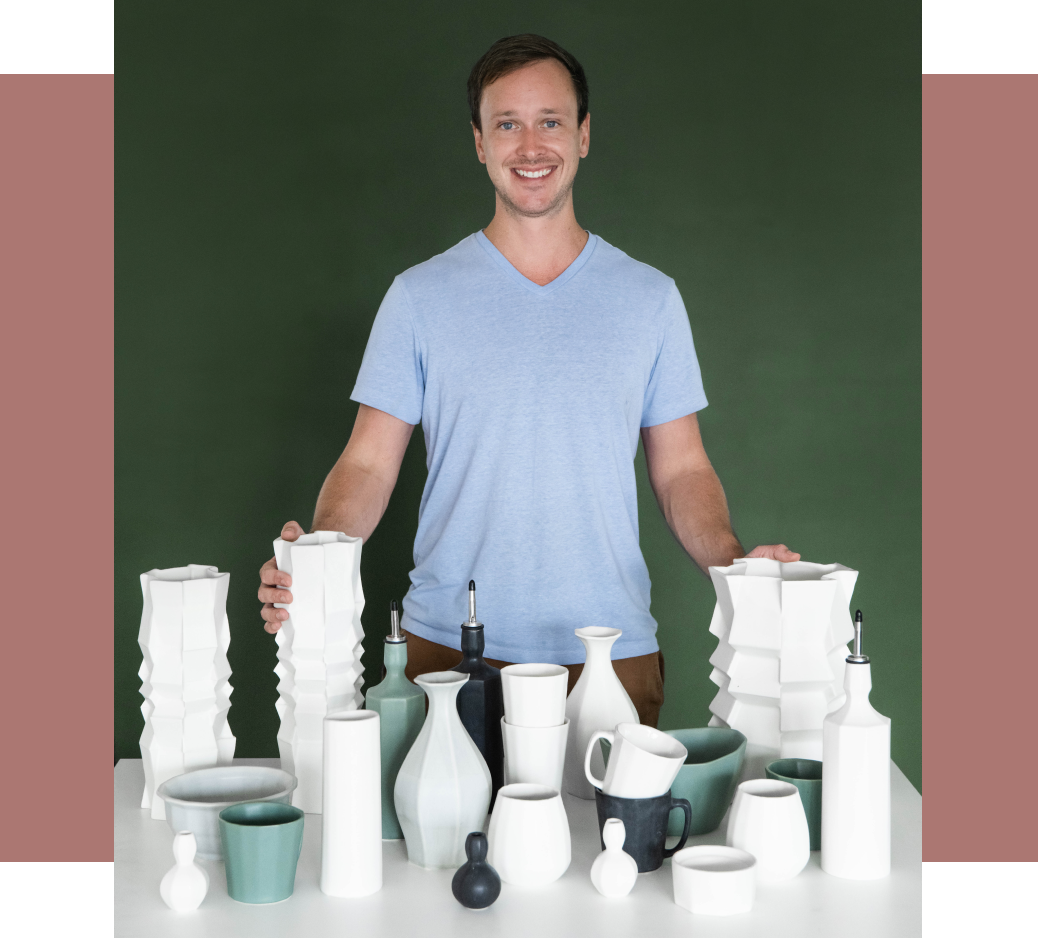 The Bright Angle is the brainchild of Nick Moen, whose passion for ceramics started when he met studio pottery legend Warren Mackenzie in his early teenage years.

He combines his background in engineering and art with inspiration from his travels and the craftspeople in the mountains of Western North Carolina where the Bright Angle studio resides to create every design in our catalog.

Nick's mission is to thoughtfully craft everyday items that are unique, functional, solve problems and stand out in everyday life.
Under his helm, The Bright Angle is reinventing the ways that fine porcelain (the noblest of all ceramic materials) can be incorporated into the modern home. It is Nick's goal that his products inspire people to cook more, plant more, and read by the warm lamp light.

The items in our showroom are a reflection of our company's care for quality, sustainability, and the intentional curation of the beloved objects that make up your world.
Nick's come a long way from slip casting porcelain as a studio potter and driving to 48 states to sell pots at craft shows.
He founded The Bright Angle in 2016 as a way to utilize techniques that allow for calculated precision in the creative process of pottery possible, without sacrificing the quality created by handmade processes.

Now he and his team of artisans are able to make pottery with handmade tools such as molds, while preserving the character and integrity that can only come from a handmade item.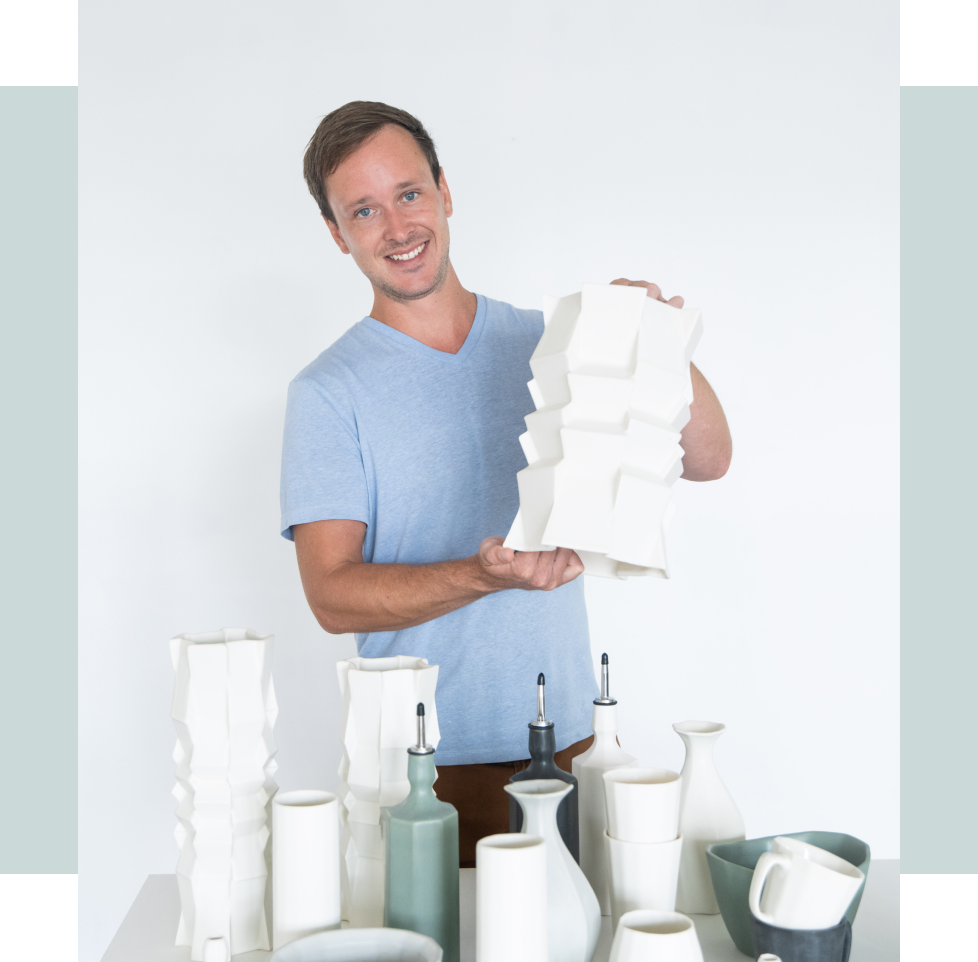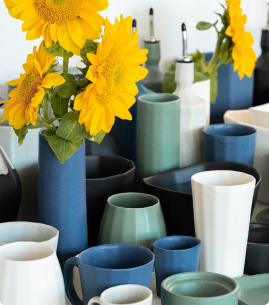 We're called The Bright Angle because, unlike traditional wheel-thrown pottery, there are no circles in our designs.
We specialize in using edges, corners, and angles to create multifaceted geometric shapes that defy the common forms found in most ceramics. We're bright because we're problem solvers committed to creating superior products that consider both function and form, while adding a splash of color and light to home interiors around the world.
We use porcelain, the noblest of all ceramic materials.
TECH-POWERED
DESIGN PROCESSES
Where design meets the science of craft.
Timeless pottery with a modern look and irresistible feel.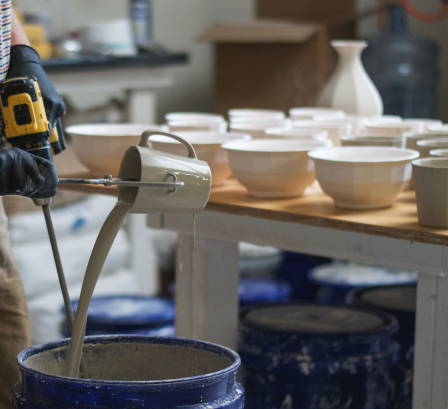 Whether it's measuring the width of a bouquet for a vase or how many fluid ounces can go in a coffee mug and be able to fit in the center console in your car – every variable has been considered when designing the housewares in our collections.

Iteration after iteration has been made to come up with the ideal forms for each finished product. We combine 3D modeling and Computer-Aided Design software for prototyping with hands-on assembly to make it possible for you to have essential housewares made from porcelain in your home.

We use the purest clay we can source. The porcelain we make from scratch is formulated to be strong, durable, with a ring of quality.
Our signature satin matte glaze that makes the geometric forms in our designs visually soft and the smoothest we can possibly make. No expense has been spared in the creation of our porcelain. That's what makes The Bright Angle different – the story behind each item that is yours to have and to hold.


MAKING A SLIPCAST POTTERY MUG START TO FINISH
Shop from our collection of timeless and sleek everyday objects that are strong enough to withstand the wear and tear of daily use.
Need assistance with an order?
Do your porcelain products contain harmful chemicals such as lead?
All of our porcelain products are completely food safe and do not contain any harmful chemicals.
How long until I receive my order?
Unless noted on the product page we ship out order within 2 business days. Shipping can take between 1-5 days depending on how far from our workshop in Asheville NC they have to ship to.
How do I access my gift card or rewards balance?
There are two ways to redeem your balance:
Option 1) Simply copy your credit code from the email or account, and apply it in the 'Gift Card or Discount Code' window upon checkout.
Option 2) Or, Log in to your account, and use the 'Apply Store Credit' button in the cart page or checkout.
Are your products dishwasher, oven, and microwave safe?
All of our ceramics products are dishwasher and microwave safe. Our porcelain is fired to over 2300 degrees fahrenheit so they can withstand the temperates of a kitchen oven. We do not recommend putting the porcelain in the oven on broil. Please avoid pouring water into the porcelain if it has directly come out of the oven.
Are your products durable?
All of our ceramic products are made from porcelain which is the strongest ceramic material. Our products are made for heavy daily use, however they can still chip if they are dropped or hit by a hard surface.
What is the return and exchange policy?
We offer 30 day hassle free returns. Please send us an email to hello@thebrightangle.com with your name and order number and reason for your return. We issue a refund once we receive the return.
Stay up to date with The Bright Angle! Follow us on social media
or reach out to us directly with comments, questions, or concerns.